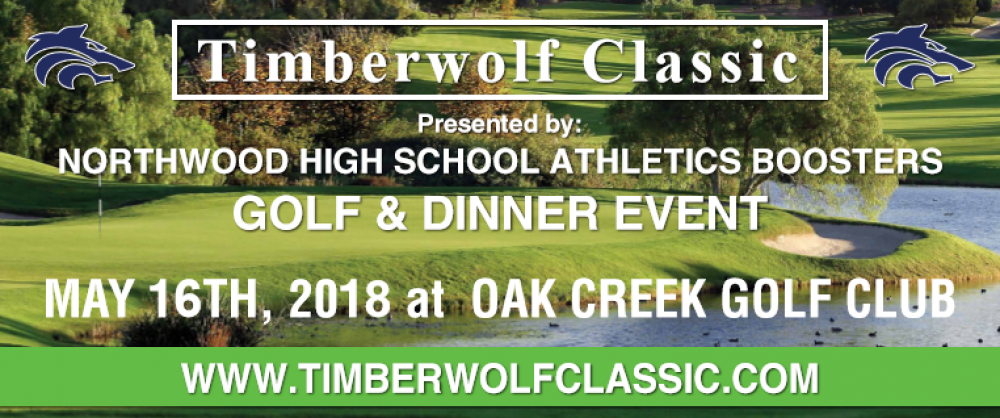 The Northwood High School Athletics Boosters, lead by the NHS Football Program will host its annual Golf Tournament, Dinner, and Helicopter Ball Drop on May 16th, 2018 at Oak Creek Golf Club.
This event supports the students of 25 programs at Northwood High School! Donations can be directed to programs of your choice (including Band and Pep Squad!) at "checkout." 
  
 There are several ways to support this great event:
1. Come out and join us for a great day of golf and fun! If you can't join us for golf, be sure to come for cocktails and dinner!
2. Become a business sponsor and get some great exposure and build goodwill in our community!
3. Buy tickets for the Helicopter Golf Ball Drop for a chance to win up to $1,000! (Remember to direct these donations to support the program(s) of your choice!)
Golf Tournament and Helicopter Ball Drop
Entry includes golf, cart, lunch, dinner, tee gift, and more.
What :
Golf Tournament, Dinner, and Helicopter Golf Ball Drop
 
 
When :
Wednesday, May 16th, 2018
 
 
 
11:00 Registration & Putting Contest
 
12:30 Shotgun Start (4-Player scramble)
 
5:30pm - 6:30pm Mix & Mingle Cocktail & Wine Hour
 
6:00pm Helicopter Ball Drop
 
6:30pm Dinner and awards
 
 
Where :
Oak Creek Golf Club
 
1 Golf Club Dr
 
Irvine, CA 92618
 
 
Cost :
Early Bird: $195 per golfer (includes cocktail party & dinner)
 
Regular Pricing: $235 per golfer (includes dinner)
 
Early Bird Dinner Only: $40 (includes cocktail party & dinner
 
Regular Dinner Only: $45 (icludes cocktail party & dinner)
 
EARLY BIRD pricing expires

March 15th

 
REGULAR pricing expires

April 16th

 
LATE pricing will continue until the event

unless SOLD OUT!

 
 
Tournament Contact :
Jeff - nhsgolftournament@gmail.com
 
 
PLATINUM LEVEL SPONSORS